I Had a Root Canal and Now My Tooth Is Dark. How Can I Get My Bright Smile Back?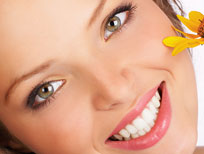 It is not uncommon for teeth to turn darker in color either before or after being treated with a root canal. Deposition of pigment within the tooth from the nerve, usually due to major trauma, can cause the tooth to turn either gray or brown. What happens is a reactive process causing calcification within the tooth can cause it to turn yellow. The treatment to regain your bright smile now depends on both the type and the severity of the color change.
Treatment Options
Internal Dental Bleaching
By far the easiest way to correct the color is by dental bleaching the tooth. The procedure for this is different than for conventional dental bleaching, where you are whitening all of your teeth.
The technique involves your dentist or endodontist placing a small amount of extremely strong dental bleaching material inside the tooth where the nerve was. It is placed through the small hole in your tooth through which the root canal was done. A temporary filling is then placed to seal in the tooth whitening material for three to four days.
The tooth will start to lighten almost immediately, and you will often see improvement on the night that it was placed. You will have to return to your dentist to have the dental bleaching material replaced because its effectiveness decreases over time. It usually takes two to three applications to regain your bright smile.
Once the tooth is lightened, a permanent filling will be placed. This procedure is very stable and it works best for teeth that have turned brown or gray. Even though the tooth color is lightened, it is difficult to obtain a perfect match with your other teeth.
Bright Smiles with Dental Veneers and Crowns
Another treatment option is to use a restoration to cover the tooth to mask the color change. The type of restoration needed will vary depending on how dark the tooth is and how much lighter it needs to be.
For teeth that are slightly to moderately dark, the best restoration is a porcelain veneer. Porcelain veneers are thin restorations that, when bonded to the tooth, can change both its shape and color.
Because of the thinness of the porcelain veneers, the color may show through the veneer if the tooth is too dark. Therefore, they are most successful for treating color changes that are not severe. For extremely dark teeth, a crown may be indicated to help mask the color.
It is important to note that although a crown or veneer may mask the darkness from the tooth, there may still be some darkness from the root that can show slightly through the gum tissue. The effect of this will vary depending on how dark the tooth is and the type of gum tissue.
A darker tooth with thinner gum tissue is more likely to have the dark color show through than a lighter tooth with thicker gum tissue. This darkness may not be a factor if the lip does not move up high enough to show the area at the gum line when smiling. If it does show and is an issue, the treatment will most likely need to include dental bleaching of the tooth, as previously discussed, with or without a restoration.
By Greggory Kinzer, DDS, MSD
How Do I Care For My Perfect Teeth After Visiting a Cosmetic Dentist?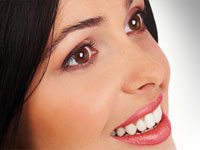 Have you had esthetic enhancements to your teeth or just naturally have great looking, perfect teeth? Here are some dentistry tips to maintain your picture perfect smile.
n order to maintain a healthy smile, you have to know what types of things are damaging to the teeth. Identifying and eliminating bad oral habits is the key to retaining a great smile for many years. Sometimes we are not aware that we are harming the health of our teeth. Do you:
Grind your teeth?
Casually bite your fingernails or a pen?
Crunch ice?
Have a diet high in sugar (such as soda, chewing gum and candy)?
Drink coffee, red wine and tea? Smoke or chew tobacco?
Force your tongue against your upper teeth?
If you answered yes to any of these questions, you are in danger of causing a detrimental effect on your new perfect teeth and smile.
How Detrimental Are the Effects? No one can predict the exact effects that the habit will have on your newly perfect teeth, however, the longer the duration of the habit, the greater negative effect it will have on the longevity of your smile enhancements.
How Can I Eliminate My Bad Oral Habits and Protect My Perfect Teeth?
The first step to eliminating a bad habit is to identify and acknowledge that you have one. If your habit is crunching ice, you must alter or eliminate it from your day-to-day routine.
Other habits are harder to break like grinding your teeth. Grinding the teeth is generally an involuntary action and usually occurs when asleep. Because the habit is difficult to break, a plastic night guard is the best solution to prevent excessive wear of your teeth.
A night guard is a clear plastic mouthpiece that is custom-fitted to snap over your teeth, much like an athletic mouth guard. The night guard is designed so your teeth grind on the plastic, not your teeth. The night guard will wear out, but your teeth will not.
Do not neglect your teeth, especially if you have had esthetic enhancements. Your enhancements will not last forever, so in order to preserve your perfect teeth, have regular dental check-ups and do your best to eliminate bad oral habits.
By Benjamin O. Watkins, III, DDS