Hollywood and the Cosmetic Dentist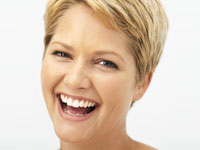 Hollywood's most fortunate faces often rely on the skills of their cosmetic dentist in ways that may surprise you.
Dustin Hoffman and Meryl Streep have perfectly nice teeth on their own. But, to meet the challenges of demanding roles in films, both used cosmetic dental appliances (dentures) to change the looks of their natural teeth.
Since women have smaller, rounder teeth, Hoffman, (who played a woman in "Tootsie") used a partial denture to make his teeth look more feminine.
To suggest the brutality of life in a concentration camp, Meryl Streep's teeth and mouth were altered for her role as Sophie Zawistowska, the poignant heroine of "Sophie's Choice."
More commonly, actors see their cosmetic dentists long before they get in front of the camera. In an image-conscious industry, it's no secret the camera is a harsh critic. And a mouth with missing teeth, or a mouthful of stained or broken teeth never helped an actor's image - or the image of a banker, doctor or secretary for that matter.
Few of us face a camera at work every day. But we all face an audience and it's the same audience that goes to the movies. The movies tell us successful people look good, failures don't. Ugly teeth can tell the tale.
Hollywood uses dentistry to make villains out of heroes - you too can use cosmetic dentistry to get a "winning" smile. Restorative dentistry is available to anyone who wants to look better.
Techniques such as dental veneers and tooth bonding have joined the traditional process of dental caps as ways to improve smiles. Orthodontic braces aren't just for children anymore, they're also available to adults who want straight teeth. In some cases, you can opt for teeth bleaching, or have your teeth lengthened or sculpted. If you think you would benefit from these treatments, ask your cosmetic dentist. Not all the new techniques will work for everyone, but he or she will be glad to discuss the best plan for your smile.
With today's new cosmetic dental techniques, you can cast yourself successfully in a competitive world with an award-winning smile.
New Advancements in Cosmetic Dentistry Techniques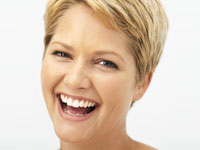 You'd be amazed (and probably delighted) by the options modern dentistry makes available for strong, natural-looking tooth restoration. Read on for more information about the exciting new cosmetic dental materials we have available now.
Traditionally, gold has been the "gold standard" of materials, and for good reason. Gold is highly biocompatible and is very long-wearing. A gold tooth, however, is not natural looking.
Today's a porcelain crowns or veneers don't mean choosing between strength and a lifelike appearance. You can opt for both. New all-porcelain crowns and veneers are available that look like natural teeth. They're durable enough to be used even for molars. This super-strong new generation porcelain is so resilient and tough it's being used in the manufacture of some tennis rackets!
Silver fillings (the kind that turn black) are a thing of the past. Instead, a composite resin filling can be used. And it's just as strong and durable as silver, and more closely reflects the color of the original tooth surface.
If you've had some cosmetic dentistry work done in the past, you'll be happy to know you're no longer locked into the choices of even five years ago. Modern dentistry is evolving rapidly, and fresher, more natural smiles, are the result.
Make sure your cosmetic dentist's office is interested in what's new for their patients. Ask them about other exciting new options (dental implants, teeth bleaching, onlays, inlays, etc.) they can offer you for your smile.