Cosmetic Dentistry and Periodontal Procedures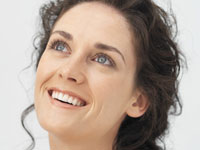 Not even the most beautiful teeth can look attractive if healthy and pleasing-looking gums do not surround them. That's because the gums frame the teeth like a picture frame frames a picture. To have a pleasing smile, the shape, color, and texture of the gums are just as important as that of the teeth they frame. Although tooth development, periodontal disease, trauma, or tooth loss can create esthetic gum deformities, modern periodontal procedures and cosmetic dentistry can give individuals a smile to smile about.
Common Cosmetic Gum Problems
Unhealthy Gums
As a result of periodontal disease, gums may appear red, swollen, and shiny. If an individual has gingivitis or periodontitis, the gums have to be periodontally treated prior to cosmetic dentistry procedures.
"Gummy Smile"
Teeth that appear too short may be normal-sized teeth hiding under too much gum. This can be the result of normal tooth development, or the use of certain medications that may cause gums to overgrow. Either way, a crown lengthening procedure can help reveal the normal tooth structure.
Gum Recession
If the teeth appear to be too long or if the root surfaces are exposed, it may be due to gum recession. Soft tissue grafting is very successful in correcting this problem.
Uneven Gum Margins
If the gum margins appear to be higher on some teeth and lower on others, this may be due to gum recession, altered eruption, or gum defects that resulted from tooth loss. The treatment of uneven gum margins may require crown lengthening, soft tissue grafting, ridge augmentation, or a combination of these procedures.
Gum Indentations
After a tooth is lost, the bone that encased it disintegrates and the gum around it may collapse, creating an indentation where the tooth used to be. Ridge augmentation procedures can help correct this problem.
Uneven Pigmentation
Changes in the color of the gums may be part of normal gum development, or the result of scarring. Soft tissue grafts can predictably correct this problem.
Spaces In Between the Teeth
Periodontal disease can result in spaces in between the teeth that may appear like black triangles. These spaces can be very difficult to treat. They can be made less unattractive by a combination of procedures that include orthodontics (braces), crowns (caps), and/or periodontal (gum) surgery. The best way to avoid these spaces is to treat periodontal disease in its early stages and avoid the need later for cosmetic dentistry.
Missing Teeth
One or more missing teeth can be predictably replaced with the aid of dental implants. Dental implants can look and feel like natural teeth.
Changes in the appearance of the gums can occur as a result of normal tooth development, periodontal disease, trauma, or tooth loss. By working with a restorative dentist who has expertise in cosmetic dental care and through the aid of modern periodontal techniques, individuals can design a smile that is both esthetic and youthful in appearance.
By Laura Minsk, DMD
Why Might I Need a Replacement Dental Crown?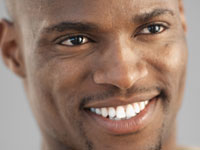 Dental crowns (also known as "caps") are needed on teeth for various reasons. Two of the reasons crowns are needed is to restore broken and unaesthetic - ugly - teeth.
How Long Does a Dental Crown Last?
When crowns are well made, research shows that the average length of time before they wear out is approximately ten years. Because each person is unique, no one can tell you how long a dental crown will last. Even though cosmetic dentistry uses advanced materials, the most durable dental crown material is gold. Dental porcelain fused to gold is the next most durable; an all-porcelain dental crown is the least durable.
Reasons to Replace Dental Crowns
Recurrent decay around the crown edges
The crown material wears down
Broken porcelain
Chronic trapping of food and plaque in between the teeth
Poor appearance
Teeth need to be linked together due to periodontal disease or excessive force
What Causes Dental Crowns to Fail Sooner Rather Than Later?
As stated earlier, each person is unique, but there are some situations that will cause a dental crown to fail sooner rather than later.
Excessive force or clenching
Excessive grinding of teeth or bruxism
Failing to maintain good oral health
Diet high in sugar content like soft drinks, candy and junk food
High decay rate
Severe periodontal disease
Parafunctional habits such as nail biting, pen chewing and pipe smoking
How Are Dental Crowns Replaced?
When replacement crowns are prescribed, there are certain steps that the dentist must complete. First, the dental crown must be removed. This can be accomplished by either wiggling the crown free or cutting the crown off the tooth. Underlying decay should be removed and fillings should be placed as needed. These fillings are referred to as "build-ups" or "foundations" for the new crown. The tooth should then be refined and a new dental crown can then be placed.
No one can tell you how long a dental crown will last. The length of time that they can last is different for each person. Therefore, maintaining regular six-month visits to your dentist is extremely important if you want to maintain a healthy mouth.
By Benjamin O. Watkins, III, DDS