How Aesthetic Dentistry Can Enhance Your Appearance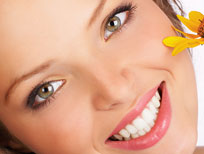 The color, size, and shape of your teeth all have a profound impact on your appearance. While it is often the desire of people to improve the look of their smiles, it should be the goal of aesthetic dentistry, or cosmetic dentistry, to do this while still maintaining a "natural" appearance of the teeth. This often requires addressing one or all of the above-mentioned criteria. How is it that alterations in these three characteristics enhance your smile?
Color of Your Teeth
Tooth color is most commonly what people see first. As you get older, your teeth get darker. The reasons for this include normal changes that occur within the tooth and repeated insults from environmental conditions (coffee or tea stains, for example). Generally, then, darker teeth are associated with older age. The easiest way that cosmetic dentistry can correct this is by teeth bleaching. But this alone may not entirely create a natural-looking appearance.
Size and Shape of Your Teeth
Size and shape also are major factors that define the appearance of teeth. The most common cause of changing tooth size and shape over time is tooth wear; and the most common cause of wear is tooth-to-tooth contact, or grinding. Wear on the edges of the teeth can give the appearance of aging because you do not show as much of your teeth when you smile. Another factor that affects how much of your teeth show when you smile is the loss of skin tone as you age.
This loss of tone causes your face to sag, thereby showing less of your upper teeth and more of your lower teeth. The aesthetic dentistry treatment to enable more teeth to show when you smile will depend on the cause. If the cause is due to wear of the teeth, dental veneers or dental crowns can be used to regain the lost length and fill out the smile. On the other hand, this may not have a significant effect if the cause is due to the loss of skin tone associated with age. If this is the case, plastic surgery may be indicated as part of the treatment.
Wear on teeth also will make the edges of the front teeth very flat. As this occurs, the edges of the front teeth will form a straight line rather than the more youthful appearance when the two front teeth are slightly longer than the teeth next to them. Also, as they wear, the proportion of length to width will be altered. Teeth will start to appear more square in their shape rather than rectangular.
Basically, any treatment that counteracts the above-mentioned appearance changes has the ability to enhance the appearance of your teeth and smile. The aesthetic dentistry treatment can vary from teeth bleaching to dental crowns or dental veneers. Depending on the severity, other forms of treatment such as braces and gum surgery also may be indicated to enhance the appearance and function of your teeth. It is important to remember that all areas need to be addressed. If treatment for teeth that are worn and dark only involves teeth bleaching, the final result will be whiter teeth that are still worn and short. The teeth will not appear natural, as there will be a conflict between white teeth (youthful) and worn teeth (aged) that do not work together. Instead, it is necessary to correct the color, size, and shape to create a more natural appearance.
By Greggory Kinzer, DDS, MSD
Considering Porcelain Veneers?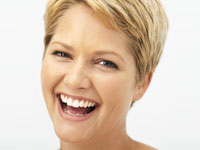 Maybe you've thought about cosmetic dental work - but felt a little vain to consider it.
Or the appearance of your teeth never bothered you much, because your dental health is pretty good.
But fixing a small functional problem can sometimes yield wonderful, unanticipated dividends. Mary, for instance, had a few dental imperfections most of us could live with. But she was hampered from time to time by a lispy "s" sound.
Mary had gapped teeth, a diastema, which caused a slight but noticeable speech defect. She also showed evidence of life in the fast lane, too: teeth worn down, probably from nervous clenching of the jaw muscles or grinding teeth.
In Mary's case - and every case is different - porcelain veneers saved the day. Her cosmetic dentist began with a functional and esthetic evaluation to determine what shape and contour would best solve Mary's diastema problem. More tooth length was proposed, to give her a more youthful, proportioned appearance, too.
Impressions were taken, and sent off to the lab for fabrication. On the next visit, her teeth were cleaned and etched chemically, the dental veneers were cemented into place, and "cured" with a special light to seal them.
Mary's speech problem evaporated. Dentistry fixed that. But cosmetic dentistry did more than perfect her speech.
WHEN FUNCTION = BEAUTY
Like an acrylic fingernail, veneers cover the front surface of the teeth.
Porcelain dental veneers
are strong and, by the way, look great.
As an architect of more that 60 years, I have learned that only the beautiful is practical. And universally, anything that is truly practical, functional, and useful is beautiful.
-Frank Lloyd Wright