Restorative Dentistry for Natural-Looking Tooth Restoration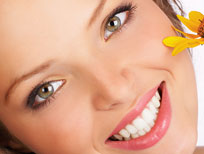 In dental materials, composite resins are just about the most exciting thing to come down the pike in a long while. Resins may well symbolize the value of long-term, persistent research. From humble beginnings in 1956, the search for an effective adhesive dental filling has culminated in resin materials - versatile, relatively strong, with cosmetic superiority. Quite a return from plastic mixed with glass beads and such.
What's amazing about filling a tooth with resin (vs. gold or silver amalgams) is the nature of the bond to the tooth. The enamel is first treated with a mild acid to create microscopic pores on the surface of the tooth. Once the resin is applied, a mechanical - not chemical - bond is formed. Sort of like dental velcro. Then the resin can be sculpted, tinted, and polished to look like the real thing.
So what do composite resins mean for cosmetic dentist patients? Let's count the ways.
Pit and fissure sealants
The best bargain in cosmetic dentistry, and proven cavity fighters to boot, are pit and fissure sealants. Sealants are a composite resin painted on back teeth, where tooth decay typically occurs in children. One sealant session, with check-ups now and then, provides cavity prevention - indefinitely.
Tooth bonding
Dental bonding is an umbrella term for placing composite resin restorations, from tooth-colored inlays to reshaping chipped teeth. For the right candidate, bonding is a comfortable, quick alternative to dental crowns, and a real boon to simple cosmetic dental care procedures. Less of your healthy tooth is removed, so it's essentially a conservative tooth restoration procedure.
Protecting exposed roots
In adults, a receding gum can expose the roots of teeth, an uncomfortable situation at best. Along with other adhesives, we apply resins directly to the root surface to help prevent tooth decay, and make the teeth less sensitive to hot and cold.
Orthodontic appliances
Teeth straightening just became easier. We can use resins to bond braces directly to teeth, so heavy bands around teeth, in some cases, can be dispensed with. The new invisible braces, along with bonding, make adult orthodontics an appealing alternative to crooked teeth.
Move over, amalgam
Well, not really. Composite resins may never replace old standby filling materials, especially on back teeth. But resins have taken their rightful place in cosmetic dentistry, complimenting metal amalgams, and they can only get better.
Cosmetic Dental Care: Discover Your Beautiful New Smile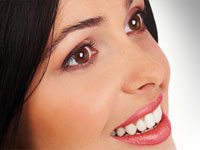 Choice is a wonderful thing. It can mean the opportunity to look a dozen years younger than your actual age. Which, in this youth-obsessed culture, gives you extra advantages, whether you're thirty-something or a grandparent.
These choices include your teeth. Not just movie stars, but adults in all walks of life, are opting for cosmetic dental care that restore youthful vitality to their skin and faces. You might be surprised by the role fresh "young" teeth play in creating that overall first impression.
Your cosmetic dentist can bring you up to date on the incredible and youth-restoring dental options, like dental crowns and veneers, that are available to you. Options available at a fraction of the cost of risky and invasive surgery such as, say, a face-lift.
Whichever restorative dentistry procedure you agree to, or decline, is your personal choice. For example, suppose you're missing teeth. Maybe the gap doesn't show, and you've lived with it for awhile. Replacement with dental crowns or dental bridges might be recommended. The consequences of living with missing teeth are important, but the choice to replace that missing tooth and get one step closer to a beautiful smile is yours.
Just the same, it's your mouth and your decision. Whenever you have questions about your care, ask your local dentist and together you can do what's right for you.