Restorative Dentistry for Natural-Looking Tooth Restoration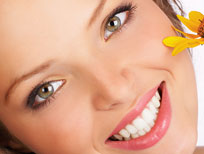 In dental materials, composite resins are just about the most exciting thing to come down the pike in a long while. Resins may well symbolize the value of long-term, persistent research. From humble beginnings in 1956, the search for an effective adhesive dental filling has culminated in resin materials - versatile, relatively strong, with cosmetic superiority. Quite a return from plastic mixed with glass beads and such.
What's amazing about filling a tooth with resin (vs. gold or silver amalgams) is the nature of the bond to the tooth. The enamel is first treated with a mild acid to create microscopic pores on the surface of the tooth. Once the resin is applied, a mechanical - not chemical - bond is formed. Sort of like dental velcro. Then the resin can be sculpted, tinted, and polished to look like the real thing.
So what do composite resins mean for cosmetic dentist patients? Let's count the ways.
Pit and fissure sealants
The best bargain in cosmetic dentistry, and proven cavity fighters to boot, are pit and fissure sealants. Sealants are a composite resin painted on back teeth, where tooth decay typically occurs in children. One sealant session, with check-ups now and then, provides cavity prevention - indefinitely.
Tooth bonding
Dental bonding is an umbrella term for placing composite resin restorations, from tooth-colored inlays to reshaping chipped teeth. For the right candidate, bonding is a comfortable, quick alternative to dental crowns, and a real boon to simple cosmetic dental care procedures. Less of your healthy tooth is removed, so it's essentially a conservative tooth restoration procedure.
Protecting exposed roots
In adults, a receding gum can expose the roots of teeth, an uncomfortable situation at best. Along with other adhesives, we apply resins directly to the root surface to help prevent tooth decay, and make the teeth less sensitive to hot and cold.
Orthodontic appliances
Teeth straightening just became easier. We can use resins to bond braces directly to teeth, so heavy bands around teeth, in some cases, can be dispensed with. The new invisible braces, along with bonding, make adult orthodontics an appealing alternative to crooked teeth.
Move over, amalgam
Well, not really. Composite resins may never replace old standby filling materials, especially on back teeth. But resins have taken their rightful place in cosmetic dentistry, complimenting metal amalgams, and they can only get better.
Porcelain Veneers: a Popular Cosmetic Dentistry Option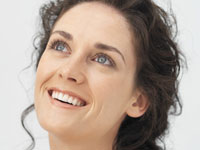 Modern cosmetic dentistry offers a wide selection of options for today's consumers for enhancing their smiles. As an alternative to crowns, chipped or stained teeth can be effectively restored with porcelain dental veneers -- ultra-thin, custom-designed ceramic shells bonded to the front teeth.
A porcelain dental veneers can change a tooth's color, size or shape. They're ideal for a number of tooth restoration purposes:
to mask severely stained teeth, such as from antibiotics;
those with discolored fillings on front teeth;
to repair crooked, chipped teeth;
or for those with poor spacing or worn enamel.
Porcelain dental veneers have a good longevity record, lasting many years when properly applied.
About the Porcelain Dental Veneers Procedure
Porcelain dental veneers treatment requires a four-step process:
First, patients consult with the cosmetic dentist regarding the specific nature of the desired changes. It is possible that you and your dentist may want to view the expected final result. This can be accomplished by performing a "wax up" of your teeth on some impressions (molds) of your mouth. You may also view the expected result via a computer enhancement program.
During the next appointment, your teeth will be prepared for the porcelain dental veneers. They'll be lightly buffed to remove about 0.5 mm from the tooth's surface (which may require local anesthesia).
Next, an impression will be made of your teeth for customizing the porcelain dental veneers. This will be sent to a dental lab and used for creating a perfect fit. A temporary dental veneer might be applied at this time, if appearance is of special concern.
When the porcelain dental veneers are ready, the dentist will carefully attach them, adjusting the shade if needed. Once the dental veneers are cemented, color alteration is no longer possible. Dental cement is applied between the porcelain dental veneers and tooth. A "light" touch finalizes the process with a beam of light activating the hardening of the cement.
Once teeth have been veneered, they will require periodic treatment and regular visits to the dentist. The result is a beautiful and long lasting smile you will love!
By Brian J. Gray, DDS, MAGD, FICO