Tooth Restoration Options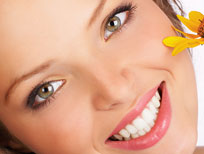 Have you ever smiled in the mirror and wondered what if?
What if your teeth were less prominent, or just a bit more even, or maybe that missing tooth was back in place?
Below you'll find the "What's In A Smile" quiz. It helps you play "What if" and then focus on what the mirror tells you.
Cosmetic dentistry isn't "just for movie stars" or "just for women." Typically it's very conservative treatment that returns huge dividends in personal self-confidence.
Today there are new tooth restoration materials and cosmetic dental care techniques that can put a beautiful smile within everyone's reach. For example, porcelain onlays and inlays can return structural integrity to damaged teeth, while leaving them looking as natural as the ones you were born with.
For teeth that are intact but seem to lack youthful sparkle, there are a variety of procedures that are simple, safe, and effective. You may want to inquire about teeth bleaching treatments, dental implants, or dental veneers that enhance your tooth enamel. Even a hygiene appointment can return light and color to your smile.
Many patients, whose appearance and self-esteem have been boosted enormously, have received only the simplest of cosmetic dentistry enhancements. Their only regret was that they'd waited so long to have them done.
Your cosmetic dentist will be happy to answer your questions. Please call to schedule a consultation.
The Psychology of Cosmetic Dentistry Work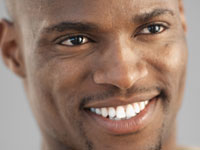 We all suspect that how we look makes a difference in our lives. Think of the days when everything is going fine - that's a day you're feeling good and probably looking good.
In our teens, looks are everything. But as we get older, we tend to take our appearance for granted, and rely instead on our skills and professional competence to make up for any "cosmetic" imperfections.
Well, "cosmetic" is more than skin deep. We form very real biases about the people around us, even as adults, based on the simple fact of appearance. And the most critical factor in such judgments, according to copious research, is the teeth.
Yes, women are concerned about shape, as men are impressed by height. But everyone reacts the same to a healthy, beautiful smile. Whether we like it or not, people with straight white teeth are perceived to be more honest, more productive, more out-going, trusting, successful - you name it - than their counterparts with a missing tooth or broken teeth.
Your dentist has seen this psychology at work. For his or her patients, children and adults alike, cosmetic dentistry has made a tangible improvement not just in smiles, but in the quality of lives. A smile enhanced by restorative dentistry brings dramatic changes - changes more than "skin deep."
With new materials and techniques - tooth bonding, teeth bleaching, dental veneers, invisible braces - your cosmetic dentist is excited about the "magic" he or she can make. They've seen self-esteem grow before their eyes. Your dentist can help you look good, feel good, and get on with a healthy, vital life. Cosmetic dentistry? Go for it!