Cosmetic Dentistry: What Is a Prosthodontist?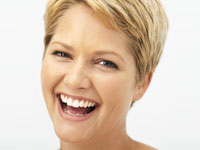 A general dentist attends four years of dental school after college and receives training in all areas of dentistry, including fillings, crowns, cleaning teeth, root canals, extracting teeth and much more. At the completion of this training period, a dentist can either go out and open a dental practice or continue on with their education and specialize in any of the above-mentioned areas. For example, an orthodontist is a specialist in braces.
A prosthodontist is a specialist in the restoration and replacement of broken and missing teeth. Their additional training lasts three years. During that time, they are taught in greater detail about both removable and fixed prosthodontics.
Removable Prosthodontics includes replacing missing teeth with appliances that the patients themselves can take in and out of their mouth, such as dentures and partial dentures.
Fixed prosthodontics includes replacing missing and/or broken teeth with restorations that the patient cannot take in and out, such as veneers, dental crowns, bridges and implants.
The most important part of the training is how to restore teeth in a variety of different situations so that the end result is the most esthetic and predictable outcome possible. The types of cases seen in cosmetic dentistry are often more comprehensive and complex in nature. They often involve the combination of crowns and implants or can even be as involved as placing crowns on every tooth in a person's mouth.
To do this, prosthodontists are trained to evaluate all the different aspects of your teeth and mouth. They observe and treat your mouth with regards to:
esthetics (the overall shape, position, and appearance of your teeth)
function (how your teeth and jaw joints work together so that you can chew)
structure (the integrity of the individual teeth)
biology (the health of the gum tissue around the teeth).
By evaluating these different areas, the prosthodontist can treat one area of your mouth, but also will determine how other areas will impact the treatment. In essence, a prosthodontist looks at your mouth as a whole, even though there may be only one tooth requiring treatment.
Often times, especially in cases involving multiple and/or missing teeth, the involvement of other specialists and cosmetic dentistry will be needed to help with treatment. These specialists include orthodontists (to straighten or move teeth using braces), periodontists (for gum surgeries and placement of implants), endodontists (root canals) and oral surgeons (for the extraction of teeth and placement of implants). In essence, the prosthodontist acts as the coordinator to help sequence the proper treatment before the final restorations are placed. Often times, treatment can take longer to complete, especially if other specialists are involved. In taking a complete approach, you can be assured that you will end up with the most esthetic and reliable treatment, whether it involves one or all of your teeth.
By Greggory Kinzer, DDS, MSD
Cosmetic Dentistry - Change Your Life And Smile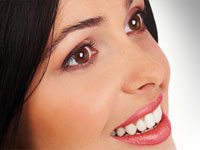 Since the beginning of time, people have battled the effects of aging in order to look and feel younger. History has repeatedly shown us that people will journey to the far ends of the earth for ways to improve and maintain a youthful appearance - whether it is in search of the fountain of youth or to find plastic surgeons or cosmetic dentistry to surgically enhance their facial structures and smiles.
Plastic surgeons have been instrumental in making facelifts and other related procedures more common to the mainstream population. As a result, a paradigm shift has occurred in how we view ourselves as we get older. Cosmetic dentistry is now available to large numbers of people.
The shift has made the average person more knowledgeable of the link between lifestyle and appearance. Consequently, people are changing their habits, attitudes and preconceived perceptions of aging.
More than ever, people are more willing to dedicate the resources necessary to find the balance between their image, spirituality and life choices. In response to the shift in people's thought processes, the cosmetic dentistry community has developed newer and more predictable anti-aging techniques to slow the affect of aging on the human body.
With a large segment of the population reaching the significant milestone of 50, the increase in appearance-enhancement therapies will continue to rise significantly in coming years.
Everyone knows that if you want to cheat the aging process, the person you go to for help is a plastic surgeon. However, if you only consider a surgeon for help, you could leave out an integral part of the rejuvenation equation. Cosmetic dentistry must be included in your quest for a youthful appearance because you will not maximize the benefits of your anti-aging procedures without a smile analysis.
Your Smile Affects How Old You Look
Cosmetic dentistry procedures are like great paintings and sculptures. Your body is the canvas or clay, your face and bone structure are the frame, and at the center of the painting is your smile. In order to make masterpieces appear life-like, artisans must have an understanding of general anatomy and bone structure.
Equating those concepts to aging, you can say that your youthful appearance is as dependent upon how much support you have for your soft tissues. The old adage "Beauty is only skin deep" does not apply to plastic surgery and cosmetic dentistry. Time has a way of shrinking the underlying bone and teeth. If surgeons and cosmetic dentists do not restore what is lost, they will not be able to achieve a natural look.
Using cheek and chin implants in conjunction with facelifts are just some of the ways surgeons restore facial support and beauty. Cosmetic dentistry uses tooth whitening, bonding and porcelain veneers to create a more youthful smile.
By Benjamin O. Watkins, III, DDS, Cosmetic Dentist.