Cosmetic Dentistry - What We Can Do That's New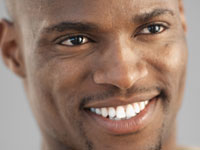 It used to be that only movie stars had those dazzling brighter-than-bright teeth. But in recent years many new cosmetic dental techniques have sprung up.
Nowadays, there's no reason you can't have a pretty smile that's the equivalent of Marilyn's (or Tom Cruise's). Here are just a few of the ways a cosmetic dentist can improve the looks and appeal of normal teeth:
Teeth Whitening - Just over the past two to three years new and safe professional teeth whitening systems have been developed. The teeth are covered with gauze and the tooth bleaching (carbamide peroxide) solution carefully applied. After three or four half-hour sessions, you can really see the difference. There are also home tooth whitening products with step-by-step procedures that enhance tooth color over several weeks.
Dental Bonding - Tooth bonding is a simple, single-visit cosmetic dentistry procedure that closes unsightly gapped teeth. We polish and prepare the teeth with a fine etching, then cover them with a composite overlay. There's usually no anesthetic needed, little or no drilling, and the teeth are protected as well as being cosmetically enhanced.
Dental Veneers - Today we have exciting new biomaterials to straighten crooked teeth, as well as brighten and close gaps. We call them porcelain laminate veneers. They're microscopically thin ceramic shells that cover problem teeth - and leave you with something to smile about!
Cosmetic Dentist: Do Teeth Bleaching Before Dental Crowns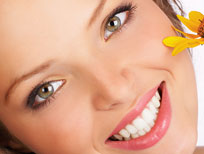 If you require a dental crown to be placed, it is a good idea to talk to your cosmetic dentist about how you feel about the color of your existing teeth before beginning the process. If you like the color of your teeth, your cosmetic dentist will then find a color that matches the crowns.
On the other hand, teeth bleaching may be an option for you. If you feel you would like to whiten or lighten your teeth, it is a good idea to communicate this to your cosmetic dentist beforehand. Once the final restorations are made, it will not be possible to change their color without redoing them.
At-Home Teeth Bleaching
If you desire whiter teeth before the cosmetic crowns are placed, the best way to achieve this is to talk to your cosmetic dentist about at-home teeth bleaching. With this procedure, custom-fitted plastic trays will be made for your teeth and you will be given some small tubes of teeth bleaching material.
Your cosmetic dentist will show you how to place a small amount of teeth bleaching material in the tray and then place the tray in your mouth. If any excess material squirts out of the tray onto your gums, you will want to remove it with your finger or a toothbrush.
The tray is then worn for one to two hours in the evening, depending on the type of teeth bleaching material. The biggest advantage of this method of teeth bleaching as compared with procedures that are done in your cosmetic dentist's office is that you are the one that can control how white you want your teeth to be.
Since you are the one in control, you can stop the teeth bleaching whenever you feel you have achieved the desired color. The typical teeth bleaching time is one and one-half to two weeks, but it may be longer.
Sensitivity to Tooth Bleaching
You may experience that your teeth become sensitive to cold air or liquids during the teeth bleaching process. This is normal and will subside and finally go away when you stop the teeth bleaching.
There are a couple of things you can do to decrease this sensitivity if it arises during the teeth bleaching process. One is to only bleach every other night. By taking a break after each night of teeth bleaching, your teeth will not be as sensitive.
The other is to have your cosmetic dentist prescribe you a fluoride gel that you can place in your custom teeth bleaching trays every other evening. The fluoride acts to decrease the sensitivity by coating or sealing the tooth surface and it will not affect the color of your teeth. This is the most reliable way to decrease sensitivity while you bleach.
Once you get your teeth to the desired color , your cosmetic dentist will have you wait about three to four weeks before taking a color match of your teeth in order to make the final restoration. During this time, the color of your teeth is stabilizing.
Once the Restorations Are Placed, What Can You Expect?
Teeth bleaching is very predictable, but the results will not last forever. Since the restorations were placed when your teeth were at their whitest, you will most likely find that in one and one-half to two years, the restorations may begin to appear lighter than your natural teeth.
This result is to be expected. It is not caused by a change in color of the restorations, but rather by your own teeth getting darker. At this point, all that is required is to, once again, bleach your natural teeth until the color is evened out. Usually, this only requires teeth bleaching a couple of times.
After the color is evened out, you can then expect to have the color stability last for another one and one-half to two years. On the other hand, if no restorations were placed by your cosmetic dentist after your teeth bleaching, you will most likely not notice the teeth changing color because there is no reference to help judge this change.
By Greggory Kinzer, DDS, MSD