Why Might I Need a Replacement Dental Crown?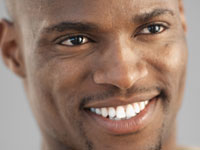 Dental crowns (also known as "caps") are needed on teeth for various reasons. Two of the reasons crowns are needed is to restore broken and unaesthetic - ugly - teeth.
How Long Does a Dental Crown Last?
When crowns are well made, research shows that the average length of time before they wear out is approximately ten years. Because each person is unique, no one can tell you how long a dental crown will last. Even though cosmetic dentistry uses advanced materials, the most durable dental crown material is gold. Dental porcelain fused to gold is the next most durable; an all-porcelain dental crown is the least durable.
Reasons to Replace Dental Crowns
Recurrent decay around the crown edges
The crown material wears down
Broken porcelain
Chronic trapping of food and plaque in between the teeth
Poor appearance
Teeth need to be linked together due to periodontal disease or excessive force
What Causes Dental Crowns to Fail Sooner Rather Than Later?
As stated earlier, each person is unique, but there are some situations that will cause a dental crown to fail sooner rather than later.
Excessive force or clenching
Excessive grinding of teeth or bruxism
Failing to maintain good oral health
Diet high in sugar content like soft drinks, candy and junk food
High decay rate
Severe periodontal disease
Parafunctional habits such as nail biting, pen chewing and pipe smoking
How Are Dental Crowns Replaced?
When replacement crowns are prescribed, there are certain steps that the dentist must complete. First, the dental crown must be removed. This can be accomplished by either wiggling the crown free or cutting the crown off the tooth. Underlying decay should be removed and fillings should be placed as needed. These fillings are referred to as "build-ups" or "foundations" for the new crown. The tooth should then be refined and a new dental crown can then be placed.
No one can tell you how long a dental crown will last. The length of time that they can last is different for each person. Therefore, maintaining regular six-month visits to your dentist is extremely important if you want to maintain a healthy mouth.
By Benjamin O. Watkins, III, DDS
The Artistry Of Tooth Bonding and Dental Crowns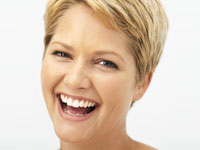 Throughout history, dentists have tried to recreate the function and beauty of natural teeth when tooth structure has been lost. Restoring function used to be the main goal of a dentist because prior to the 1970's, dentistry lacked the proper technology to achieve fine esthetics as well as function. Dentists could only predictably offer patients a restoration that would simply "fill" the empty space. Today, dentistry has more advanced dental materials and newly developed techniques that allow dentists to offer artistically-recreated, natural-looking crowns and modern tooth bonding that would fool even the most critical eye.
Before you can understand how crowns and tooth bonding can mimic teeth you must understand why natural teeth appear as they do.
What Color Are Your Teeth?
It is a common mistake for patients to think that their teeth are all one color. Your teeth are never just one color. They are a series of superimposed translucent layers of varying shades. Teeth also have different surface textures that reflect light in ways that affect the color of your teeth.
Your teeth are made up of three layers: pulp, dentin, and enamel. Each layer has a specific thickness, composition and structure. Additionally, the way light reflects off of or transluces through the layers gives you the color of your teeth. Using knowledge about the three layers of teeth allow dentists and dental technicians to recreate natural-looking dental crowns and tooth bonding.
Who Makes the Crowns?
Dental crown technicians are the true artisans in dentistry. Dentists begin the crown-making process by reducing the size of the tooth, making an impression of the reduced tooth, and selecting the proper shades of the tooth. This information is then transferred to the dental technician so a crown can be made.
Dental technicians blend science with artistic knowledge to recreate natural-looking teeth. Artistically, they use frame and reference, proportion and idealism, perspective and illusion as well as symmetry to mimic nature. Understanding the language of colors and using new dental materials and techniques has allowed the dentist to not only "fill" missing spaces but create cosmetic dentistry artwork from crowns and tooth bonding as well.
By Benjamin O. Watkins, III, DDS