Can Dental Bridges or Dental Implants Replace a Single Missing Tooth?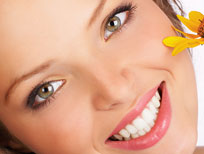 There are many cosmetic dentistry options available today that dentists can use to replace missing teeth. The decision to use one instead of another depends on many factors. The best cosmetic dentistry treatment option can be different from person to person or from one area to another in the same mouth.
The purpose of this article is to list the major treatment choices and some of the key factors involved in the cosmetic dentistry treatment decision.
There are four major categories of restorations available for single tooth replacement:
Bonded (Maryland) dental bridges
Cantilevered dental bridges
Conventional dental bridges
Dental Implants
The goal in restoring a missing tooth is choosing the most conservative treatment that will provide you with a restoration that not only looks good but is functional and has long-term stability.
Bonded (Maryland) Dental Bridges
Bonded dental bridges use the teeth adjacent to the empty space to help support the missing tooth. To do this, a very thin piece of metal or tooth-colored material is overlaid and bonded onto the back of the adjacent teeth. Running between these two bonded pieces is a tooth that fills in the empty space.
The main advantage of bonded dental bridges is that it is the most conservative type of dental restoration that uses the adjacent teeth for support. So, if the teeth next to the empty space look good and are not in need of any other type of restorations (fillings), bonded dental bridges may be an option.
However, because this restoration mainly gets its strength from bonding only, the long-term success depends highly on how your teeth fit together, how hard your teeth come together (grinding), and if your teeth are loose or not.
So, how long can this type of dental bridge be expected to last? Looking at long-term research studies, the failure rate is about 25% at five years. This means that one out of every four dental bridges will come off within five years. Generally, they can be re-bonded when they come off, but once it is re-bonded, the chance of it coming off again increases.
Cantilevered Dental Bridges
A cantilevered type of restoration only uses one tooth next to the empty space to support the missing tooth. Designs for this type of dental bridge can range from only using the back of the tooth (more conservative) to using a full crown to help support the missing tooth (less conservative).
The choice of which is done again involves the amount of force (grinding) that is placed on the teeth and whether the tooth is in need of a full dental crown for any other reason. If used in the correct situation, with no history of grinding, this type of dental bridge has a higher success rate than bonded dental bridges. This type of design is particularly useful for replacing missing lateral incisors.
Conventional Dental Bridges
Conventional dental bridges are generally what people think of when they hear the word "dental bridges." This type of restoration uses crowns on the teeth next to the empty space that are hooked together to help support the missing tooth.
This type of bridge is also the treatment of choice if the two adjacent teeth need to have crowns for other reasons.
Conventional dental bridges are also one of the most predictable of all the options for replacing missing teeth. The failure rate of conventional dental bridges in the dental literature has a wide range of variation, ranging from 20% over 3 years to 3% over 23 years.
Dental Implants
A dental implant is a titanium metal "screw" that is placed directly into the bone in the area of the missing tooth. Once the dental implant is integrated into the bone, it will act as the root of the missing tooth. A dental crown can then be made to fit onto the implant.
By far, a dental implant is considered the most conservative of all the aforementioned procedures regarding the adjacent teeth. On the other hand, it may not seem conservative due to the surgical implant placement.
To be able to place a dental implant in the correct position, two main things need to be addressed. The first is whether there is enough bone to hold the dental implant and the second is whether the roots of the adjacent teeth are tilted and in the way of where the implant needs to go.
To overcome these concerns, you may require either bone grafting to increase the amount of bone or orthodontics (braces) to help move the roots of the adjacent teeth out of the way. Although this seems like a lot of work to do in order to place a dental implant, if the teeth next to the empty space look good and are healthy, a dental implant is the only way to replace the missing tooth predictably without altering your own teeth.
As with the other treatment options like dental bridges, the amount of force placed on your teeth (grinding) can have an effect on the long-term predictability of implants and should be evaluated. The failure rate of the dental implant in the front part of the mouth is currently around 5% at ten years.
By Greggory Kinzer, DDS, MSD
Choosing A Tooth Bleaching Product for a Brite Smile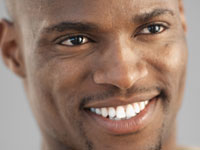 Advanced dental techniques now provide consumers with exciting, new options for enhancing their smiles. Revolutionary methods are now available for teeth bleaching to make smiles sparkle!
Teeth bleaching or tooth whitening lightens the color of teeth whether darkened from age, coffee, tea or tobacco. Its brightening effects can last up to five years after the treatment depending on your personal habits.
Is Teeth Bleaching Right for You?
Tooth bleaching has a higher than 90% success rate. It is tough on stains but gentle on your teeth! Results vary depending on whether or not your teeth are stained from smoking, from taking certain medications such as tetracycline during tooth development, or from fluorosis, a condition occurring when too much fluoride is used.
Teeth Bleaching will not lighten fillings or artificial materials used in dental repair such as dental crowns, porcelain veneers, etc. Your dentist may discourage treatment if you have sensitive teeth, periodontal disease, teeth with worn enamel or if you are pregnant or breast-feeding.
Several Options for Bleaching are Available
Some teeth bleaching treatments are performed in the dental office using an in-office tooth bleaching system, such as laser bleaching. This method lightens teeth instantly.
The same results may be obtained more economically through dentist-supervised, at-home teeth bleaching, but takes longer to achieve. Some tooth bleaching systems, which bleach your teeth while you sleep, work in 10 to 14 days (or more accurately nights)! Others bleach your teeth from two to four hours a day requiring three to six weeks to complete.
It's important to know that certain types of stains respond better to different types of teeth whitening materials. In such cases, your dentist may recommend one method over another.
Five Steps to a Bright Smile
Your dentist will first examine your teeth and gums and discuss the procedure best suited to your individual needs. Any cavities or gum problems must be treated before teeth bleaching can begin.
The in-office method generally takes one to three hours and results in an immediate, noticeable change.
For the at-home tooth whitening treatment, special molds will be made of your teeth; these will be used to make custom-fitted flexible trays to hold the tooth bleaching gel comfortably in your mouth.
When you get your teeth bleaching trays, you'll receive instructions about wearing them. These instructions must be carefully followed. Only the tooth whitening product materials provided by the dentist can be safely used.
After completing the treatment, your teeth will be checked by your dental provider to discuss the results.
Flash your new bright smile. Your teeth will radiate a bright new look!
Safety
Research over the last five years has proven tooth whitening products to be both safe and effective. The American Dental Association's seal of approval has been given to a wide range of teeth bleaching products. Generally, the only side effect from treatment may be some sensitivity to hot and cold foods. If this occurs, sensitivity normally disappears within 48 hours.
By Brian J. Gray, DDS, MAGD, FICO