Cosmetic Dentistry - What We Can Do That's New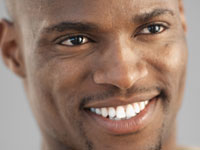 It used to be that only movie stars had those dazzling brighter-than-bright teeth. But in recent years many new cosmetic dental techniques have sprung up.
Nowadays, there's no reason you can't have a pretty smile that's the equivalent of Marilyn's (or Tom Cruise's). Here are just a few of the ways a cosmetic dentist can improve the looks and appeal of normal teeth:
Teeth Whitening - Just over the past two to three years new and safe professional teeth whitening systems have been developed. The teeth are covered with gauze and the tooth bleaching (carbamide peroxide) solution carefully applied. After three or four half-hour sessions, you can really see the difference. There are also home tooth whitening products with step-by-step procedures that enhance tooth color over several weeks.
Dental Bonding - Tooth bonding is a simple, single-visit cosmetic dentistry procedure that closes unsightly gapped teeth. We polish and prepare the teeth with a fine etching, then cover them with a composite overlay. There's usually no anesthetic needed, little or no drilling, and the teeth are protected as well as being cosmetically enhanced.
Dental Veneers - Today we have exciting new biomaterials to straighten crooked teeth, as well as brighten and close gaps. We call them porcelain laminate veneers. They're microscopically thin ceramic shells that cover problem teeth - and leave you with something to smile about!
The Artistry Of Tooth Bonding and Dental Crowns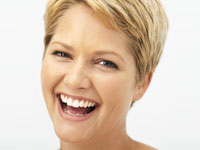 Throughout history, dentists have tried to recreate the function and beauty of natural teeth when tooth structure has been lost. Restoring function used to be the main goal of a dentist because prior to the 1970's, dentistry lacked the proper technology to achieve fine esthetics as well as function. Dentists could only predictably offer patients a restoration that would simply "fill" the empty space. Today, dentistry has more advanced dental materials and newly developed techniques that allow dentists to offer artistically-recreated, natural-looking crowns and modern tooth bonding that would fool even the most critical eye.
Before you can understand how crowns and tooth bonding can mimic teeth you must understand why natural teeth appear as they do.
What Color Are Your Teeth?
It is a common mistake for patients to think that their teeth are all one color. Your teeth are never just one color. They are a series of superimposed translucent layers of varying shades. Teeth also have different surface textures that reflect light in ways that affect the color of your teeth.
Your teeth are made up of three layers: pulp, dentin, and enamel. Each layer has a specific thickness, composition and structure. Additionally, the way light reflects off of or transluces through the layers gives you the color of your teeth. Using knowledge about the three layers of teeth allow dentists and dental technicians to recreate natural-looking dental crowns and tooth bonding.
Who Makes the Crowns?
Dental crown technicians are the true artisans in dentistry. Dentists begin the crown-making process by reducing the size of the tooth, making an impression of the reduced tooth, and selecting the proper shades of the tooth. This information is then transferred to the dental technician so a crown can be made.
Dental technicians blend science with artistic knowledge to recreate natural-looking teeth. Artistically, they use frame and reference, proportion and idealism, perspective and illusion as well as symmetry to mimic nature. Understanding the language of colors and using new dental materials and techniques has allowed the dentist to not only "fill" missing spaces but create cosmetic dentistry artwork from crowns and tooth bonding as well.
By Benjamin O. Watkins, III, DDS