Find A Cosmetic Dentist to Fix Chipped Or Cracked Teeth With Dental Bonding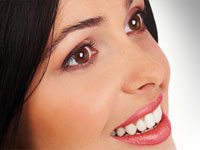 The term "dental bonding" describes a dental procedure that is used for various purposes. Tooth-colored composite resins are applied to teeth for cosmetic reasons, to repair cracked and chipped teeth, protect exposed tooth roots against decay, or restore decayed teeth.
What Are Some Of The Benefits Of Dental Bonding?
For cosmetic purposes, dental bonding can dramatically improve your smile by closing gaps, masking stains caused by coffee, tea, tobacco, or medications as well as repairing cracks or chips resulting from accidents.
These tooth-colored composites are well suited for protecting exposed tooth roots caused by gum recession. Tooth roots are covered by dentin that is more susceptible to decay. Tooth bonding helps prevent decay in this area as well as eliminate sensitivity to hot and cold resulting from tooth root exposure.
Since composite materials can match the color of your own teeth, dental bonding is preferred for filling cavities in the front teeth or wherever else they may be visible.
Dental bonding does not last as long as porcelain veneers, but it also is not as costly.
What's Involved In The Dental Bonding Procedure?
Usually the process is completed during one visit to your cosmetic dentist and doesn't require drilling or anesthesia. First, your tooth is prepared with an etching solution to help the dental bonding materials adhere.
Next, the resin is applied and contoured to the proper shape, then cured with either a special light or chemical treatment. The tooth is then polished for a natural-looking appearance. A follow-up appointment with your dentist may be recommended for additional polishing.
How Do I Care For My Teeth After Dental Bonding?
While the dental bonding materials are very durable, they still can chip and may need to be replaced periodically. Avoid excessive pressure such as chewing ice, hard candy or unpopped popcorn kernels. Dental bonding materials are susceptible to staining from tobacco, coffee, tea and berries. Alcohol and acid-containing foods such as vinegar, tomatoes or pineapple can damage the resin.
Regular dental check-ups are important for maintaining good dental health and natural-looking teeth.
By Danine M. Fresch, DDS
Cosmetic Dentistry for a Perfect Smile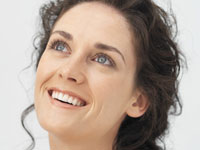 In most cosmetic dentistry practices, good health and sound oral function are their primary goals. But these days, both can be achieved with a third factor in mind, good looks.
Good looks are all around us. In consumer magazines, TV, media, politics, and business. Both men and women are flashing bright, near perfect smiles. It's a pleasure to see. We're not all born that way, and they probably weren't either. Dental makeovers have contributed to a large part of the self-esteem of models, movie stars, and recently, the grocery clerk or the grandmother next door, who seek cosmetic dental care.
Surprisingly, most tooth restoration procedures are fairly conservative. That is, removal of healthy enamel is kept to a minimum, or dispensed with altogether. Teeth bleaching, tooth bonding and contouring are quick, easy, and fairly inexpensive. Porcelain veneers lend new form and youthfulness to front teeth. Tooth-colored fillings can replace discolored amalgams. A new denture can restore a more youthful appearance. The choices are yours.
Notice the people you know who are proud of their teeth. They smile more often. Great teeth build self-confidence. Most people respond more readily to an attractive smile in a very positive way. The psychology is simple, the impact great.
We are lucky to have new materials and techniques that make a beautiful smile within everyone's reach. Take advantage of cosmetic dentistry, for yourself and the people around you.
Give your cosmetic dentist a call today to find out how your smile can benefit from today's technical innovations.