Hollywood and the Cosmetic Dentist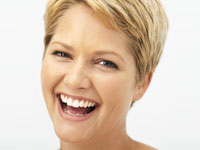 Hollywood's most fortunate faces often rely on the skills of their cosmetic dentist in ways that may surprise you.
Dustin Hoffman and Meryl Streep have perfectly nice teeth on their own. But, to meet the challenges of demanding roles in films, both used cosmetic dental appliances (dentures) to change the looks of their natural teeth.
Since women have smaller, rounder teeth, Hoffman, (who played a woman in "Tootsie") used a partial denture to make his teeth look more feminine.
To suggest the brutality of life in a concentration camp, Meryl Streep's teeth and mouth were altered for her role as Sophie Zawistowska, the poignant heroine of "Sophie's Choice."
More commonly, actors see their cosmetic dentists long before they get in front of the camera. In an image-conscious industry, it's no secret the camera is a harsh critic. And a mouth with missing teeth, or a mouthful of stained or broken teeth never helped an actor's image - or the image of a banker, doctor or secretary for that matter.
Few of us face a camera at work every day. But we all face an audience and it's the same audience that goes to the movies. The movies tell us successful people look good, failures don't. Ugly teeth can tell the tale.
Hollywood uses dentistry to make villains out of heroes - you too can use cosmetic dentistry to get a "winning" smile. Restorative dentistry is available to anyone who wants to look better.
Techniques such as dental veneers and tooth bonding have joined the traditional process of dental caps as ways to improve smiles. Orthodontic braces aren't just for children anymore, they're also available to adults who want straight teeth. In some cases, you can opt for teeth bleaching, or have your teeth lengthened or sculpted. If you think you would benefit from these treatments, ask your cosmetic dentist. Not all the new techniques will work for everyone, but he or she will be glad to discuss the best plan for your smile.
With today's new cosmetic dental techniques, you can cast yourself successfully in a competitive world with an award-winning smile.
Do You Have a Perfect Smile?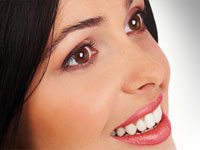 A healthy, beautiful smile should be part of your wardrobe. When you're getting dressed in the morning, don't forget that a perfect smile is a vital part of your total image.
Your smile is often the first impression people have of you. A psychological study reported in Perceptive Motor Skills found that people judged a person's physical attractiveness by "the mouth, eyes, structure of the face, hair, and nose" in that order!
What is "attractive?"
Psychologists have trouble defining "beauty." But they agree that beauty is important in every social relationship. For example, it was found that mothers cuddle their physically attractive babies more than their so-called "ugly" babies.
Take a moment to smile at yourself in the mirror. Do you have white teeth? Is your smile attractive, appealing? Or, is your smile weakened by cosmetic dental problems? Do you have a broken or missing tooth? If so, you can do something about it.
Cosmetic dentistry has made great strides in the last 20 years. Not only do cosmetic dentists make it possible for people to keep their natural teeth all their lives, they help people look and feel better about themselves.
You can change your profile
A cracked tooth, or stained and uneven teeth can be restored. Gaps between teeth, poorly positioned teeth or a jaw that recedes or protrudes, can often be successfully fixed with orthodontics. Did you know that dentists do 95% of all face reconstruction in this country? Through procedures called maxillofacial surgery or orthognathic surgery, many bone and jaw deformities or conditions caused by accidents can be corrected.
Developing a beautiful smile - even if you weren't born with one - is important at any age. Make your smile your strongest fashion asset.