Choosing A Tooth Bleaching Product for a Brite Smile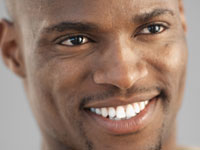 Advanced dental techniques now provide consumers with exciting, new options for enhancing their smiles. Revolutionary methods are now available for teeth bleaching to make smiles sparkle!
Teeth bleaching or tooth whitening lightens the color of teeth whether darkened from age, coffee, tea or tobacco. Its brightening effects can last up to five years after the treatment depending on your personal habits.
Is Teeth Bleaching Right for You?
Tooth bleaching has a higher than 90% success rate. It is tough on stains but gentle on your teeth! Results vary depending on whether or not your teeth are stained from smoking, from taking certain medications such as tetracycline during tooth development, or from fluorosis, a condition occurring when too much fluoride is used.
Teeth Bleaching will not lighten fillings or artificial materials used in dental repair such as dental crowns, porcelain veneers, etc. Your dentist may discourage treatment if you have sensitive teeth, periodontal disease, teeth with worn enamel or if you are pregnant or breast-feeding.
Several Options for Bleaching are Available
Some teeth bleaching treatments are performed in the dental office using an in-office tooth bleaching system, such as laser bleaching. This method lightens teeth instantly.
The same results may be obtained more economically through dentist-supervised, at-home teeth bleaching, but takes longer to achieve. Some tooth bleaching systems, which bleach your teeth while you sleep, work in 10 to 14 days (or more accurately nights)! Others bleach your teeth from two to four hours a day requiring three to six weeks to complete.
It's important to know that certain types of stains respond better to different types of teeth whitening materials. In such cases, your dentist may recommend one method over another.
Five Steps to a Bright Smile
Your dentist will first examine your teeth and gums and discuss the procedure best suited to your individual needs. Any cavities or gum problems must be treated before teeth bleaching can begin.
The in-office method generally takes one to three hours and results in an immediate, noticeable change.
For the at-home tooth whitening treatment, special molds will be made of your teeth; these will be used to make custom-fitted flexible trays to hold the tooth bleaching gel comfortably in your mouth.
When you get your teeth bleaching trays, you'll receive instructions about wearing them. These instructions must be carefully followed. Only the tooth whitening product materials provided by the dentist can be safely used.
After completing the treatment, your teeth will be checked by your dental provider to discuss the results.
Flash your new bright smile. Your teeth will radiate a bright new look!
Safety
Research over the last five years has proven tooth whitening products to be both safe and effective. The American Dental Association's seal of approval has been given to a wide range of teeth bleaching products. Generally, the only side effect from treatment may be some sensitivity to hot and cold foods. If this occurs, sensitivity normally disappears within 48 hours.
By Brian J. Gray, DDS, MAGD, FICO
Benefits of Cosmetic Dental Care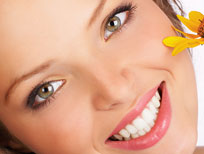 Do your looks affect the way people treat you? Positive self-esteem - how we feel about ourselves - is very important to a healthy personality, to happiness, to the development of a positive attitude about life, and to achievement in the direction we choose.
It is well documented that people with a positive "feeling" about themselves do better in school, in business, and have closer, more meaningful relationships.
One measure of self-esteem is how you feel about your physical appearance; or, more importantly, how you feel you look to others. The complexion, teeth, and nose, in that order, are the highest "rated" facial features.
Self-image begins to develop about age four or five. At that age, identity influences other developing traits: social skills, verbal skills, intellect, and the ability to define oneself as a successful person. In other words, at age four or five a child makes a giant step toward "I'm OK, I'm a worthwhile person," or, conversely, toward "I'm not OK." The results can often affect the remainder of that person's life.
Beauty is often more than skin deep, because the psychological damage to a person who feels unattractive can be devastating. Then there's the other side of the coin. Does how we look affect how others treat us?
Indeed. Studies have shown that good-looking people are given the benefit of the doubt over unattractive people. They're thought to be more intelligent, more likeable, higher achievers, honest, and braver than the unattractive. Even school teachers spend more time with attractive students!
Your mouth is important to your total psychological and physical well-being. Is it worth regular dental cleaning and cosmetic dental care? Is visiting your cosmetic dentist and having your broken teeth restored with beautiful dental crowns worth it? Is straightening crooked teeth with braces worth it? We think you'll probably agree, you and your family are definitely worth it!