The Artistry Of Tooth Bonding and Dental Crowns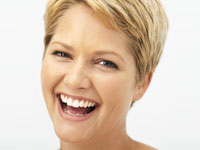 Throughout history, dentists have tried to recreate the function and beauty of natural teeth when tooth structure has been lost. Restoring function used to be the main goal of a dentist because prior to the 1970's, dentistry lacked the proper technology to achieve fine esthetics as well as function. Dentists could only predictably offer patients a restoration that would simply "fill" the empty space. Today, dentistry has more advanced dental materials and newly developed techniques that allow dentists to offer artistically-recreated, natural-looking crowns and modern tooth bonding that would fool even the most critical eye.
Before you can understand how crowns and tooth bonding can mimic teeth you must understand why natural teeth appear as they do.
What Color Are Your Teeth?
It is a common mistake for patients to think that their teeth are all one color. Your teeth are never just one color. They are a series of superimposed translucent layers of varying shades. Teeth also have different surface textures that reflect light in ways that affect the color of your teeth.
Your teeth are made up of three layers: pulp, dentin, and enamel. Each layer has a specific thickness, composition and structure. Additionally, the way light reflects off of or transluces through the layers gives you the color of your teeth. Using knowledge about the three layers of teeth allow dentists and dental technicians to recreate natural-looking dental crowns and tooth bonding.
Who Makes the Crowns?
Dental crown technicians are the true artisans in dentistry. Dentists begin the crown-making process by reducing the size of the tooth, making an impression of the reduced tooth, and selecting the proper shades of the tooth. This information is then transferred to the dental technician so a crown can be made.
Dental technicians blend science with artistic knowledge to recreate natural-looking teeth. Artistically, they use frame and reference, proportion and idealism, perspective and illusion as well as symmetry to mimic nature. Understanding the language of colors and using new dental materials and techniques has allowed the dentist to not only "fill" missing spaces but create cosmetic dentistry artwork from crowns and tooth bonding as well.
By Benjamin O. Watkins, III, DDS
Porcelain Veneers: a Popular Cosmetic Dentistry Option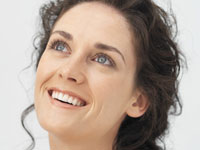 Modern cosmetic dentistry offers a wide selection of options for today's consumers for enhancing their smiles. As an alternative to crowns, chipped or stained teeth can be effectively restored with porcelain dental veneers -- ultra-thin, custom-designed ceramic shells bonded to the front teeth.
A porcelain dental veneers can change a tooth's color, size or shape. They're ideal for a number of tooth restoration purposes:
to mask severely stained teeth, such as from antibiotics;
those with discolored fillings on front teeth;
to repair crooked, chipped teeth;
or for those with poor spacing or worn enamel.
Porcelain dental veneers have a good longevity record, lasting many years when properly applied.
About the Porcelain Dental Veneers Procedure
Porcelain dental veneers treatment requires a four-step process:
First, patients consult with the cosmetic dentist regarding the specific nature of the desired changes. It is possible that you and your dentist may want to view the expected final result. This can be accomplished by performing a "wax up" of your teeth on some impressions (molds) of your mouth. You may also view the expected result via a computer enhancement program.
During the next appointment, your teeth will be prepared for the porcelain dental veneers. They'll be lightly buffed to remove about 0.5 mm from the tooth's surface (which may require local anesthesia).
Next, an impression will be made of your teeth for customizing the porcelain dental veneers. This will be sent to a dental lab and used for creating a perfect fit. A temporary dental veneer might be applied at this time, if appearance is of special concern.
When the porcelain dental veneers are ready, the dentist will carefully attach them, adjusting the shade if needed. Once the dental veneers are cemented, color alteration is no longer possible. Dental cement is applied between the porcelain dental veneers and tooth. A "light" touch finalizes the process with a beam of light activating the hardening of the cement.
Once teeth have been veneered, they will require periodic treatment and regular visits to the dentist. The result is a beautiful and long lasting smile you will love!
By Brian J. Gray, DDS, MAGD, FICO