Choosing A Tooth Bleaching Product for a Brite Smile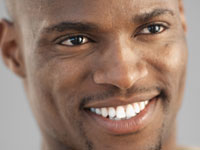 Advanced dental techniques now provide consumers with exciting, new options for enhancing their smiles. Revolutionary methods are now available for teeth bleaching to make smiles sparkle!
Teeth bleaching or tooth whitening lightens the color of teeth whether darkened from age, coffee, tea or tobacco. Its brightening effects can last up to five years after the treatment depending on your personal habits.
Is Teeth Bleaching Right for You?
Tooth bleaching has a higher than 90% success rate. It is tough on stains but gentle on your teeth! Results vary depending on whether or not your teeth are stained from smoking, from taking certain medications such as tetracycline during tooth development, or from fluorosis, a condition occurring when too much fluoride is used.
Teeth Bleaching will not lighten fillings or artificial materials used in dental repair such as dental crowns, porcelain veneers, etc. Your dentist may discourage treatment if you have sensitive teeth, periodontal disease, teeth with worn enamel or if you are pregnant or breast-feeding.
Several Options for Bleaching are Available
Some teeth bleaching treatments are performed in the dental office using an in-office tooth bleaching system, such as laser bleaching. This method lightens teeth instantly.
The same results may be obtained more economically through dentist-supervised, at-home teeth bleaching, but takes longer to achieve. Some tooth bleaching systems, which bleach your teeth while you sleep, work in 10 to 14 days (or more accurately nights)! Others bleach your teeth from two to four hours a day requiring three to six weeks to complete.
It's important to know that certain types of stains respond better to different types of teeth whitening materials. In such cases, your dentist may recommend one method over another.
Five Steps to a Bright Smile
Your dentist will first examine your teeth and gums and discuss the procedure best suited to your individual needs. Any cavities or gum problems must be treated before teeth bleaching can begin.
The in-office method generally takes one to three hours and results in an immediate, noticeable change.
For the at-home tooth whitening treatment, special molds will be made of your teeth; these will be used to make custom-fitted flexible trays to hold the tooth bleaching gel comfortably in your mouth.
When you get your teeth bleaching trays, you'll receive instructions about wearing them. These instructions must be carefully followed. Only the tooth whitening product materials provided by the dentist can be safely used.
After completing the treatment, your teeth will be checked by your dental provider to discuss the results.
Flash your new bright smile. Your teeth will radiate a bright new look!
Safety
Research over the last five years has proven tooth whitening products to be both safe and effective. The American Dental Association's seal of approval has been given to a wide range of teeth bleaching products. Generally, the only side effect from treatment may be some sensitivity to hot and cold foods. If this occurs, sensitivity normally disappears within 48 hours.
By Brian J. Gray, DDS, MAGD, FICO
Is Your Nose Getting Closer To Your Chin? Restorative Dentistry Can Help!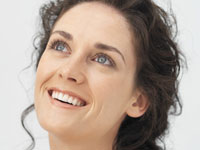 Everyone, even your dentist, knows that when we age, we see certain changes in our face (for example, wrinkled skin, less skin tone, shrunken appearance). The soft tissue in the lower one-third of the face is supported by the teeth and jawbone, and gives support to your smile. As we age, we lose support to our smile and we begin to appear older.
Anatomically, the face is divided into thirds: the upper, middle and lower one-third. The space between your nose and your chin is referred to as the lower one-third. The teeth support the vertical height of your lower face, and more specifically the back teeth support your lower face.
Most dentists agree that minimal and gradual wearing away of the top enamel of the teeth is considered normal during the lifespan of a patient. However, excessive wear on the top surfaces of the teeth can result in abscessed teeth, an irregular bite, decreased chewing capacity and esthetic disharmony. Patients with these types of problems often require extensive restorative cosmetic dentistry treatment.
How Common Is Tooth Wear?
Although the prevalence of tooth wear, or attrition, is not known, it is thought to be very common in adults over the age of 40. The wearing of the top surfaces of the teeth is most often attributed to attrition, which is the wearing away of one tooth surface by another tooth surface. Attrition is the result of bruxism, or the involuntary grinding of the teeth against each other.
How Does Attrition Occur?
Attrition can be the result of one or a combination of problems such as:
Congenital Abnormalities: Hereditary abnormalities can cause the malformation of the surfaces of the teeth. This can result in a thin and/or brittle outer layer of the tooth. This leaves the tooth more susceptible to surface wear and a more rapid attrition of tooth structure.
Parafunctional Habits: One type of parafunctional habit is bruxism, as explained above. Other habits often associated with attrition include biting on needles, pipe stems, pencils, or finger nails as well as clenching. Many studies have related stress to attrition.
Abrasion: It is defined as the wearing away of tooth tissue through mechanical processes. The top surfaces of the teeth are abraded away usually by diet, chewing of abrasives such as tobacco and environmental factors such as constant exposure to dust and grit (in farming).
Erosion: Erosion is the destruction of hard dental tissues by chemical action. Diets high in acidic content like juices, colas and other carbonated drinks are examples of the foods that cause erosion. Patients who suffer from anorexia nervosa or bulimia are prime examples of erosion due to the high acid nature of stomach acids that are constantly regurgitated into the mouth.
What Is the Result of Worn Teeth?
Depending on the severity of the tooth wear, teeth may be broken, shortened and unattractive. Having worn teeth can result in jaw joint pain (TMJ), a decreased ability to chew and a sunken appearance to the lower face. All of these results can make a person appear more wrinkled and older.
Can Worn Teeth Be Fixed with Fillings?
Generally, the worn teeth will have to have new fillings placed or redone. When severe wear occurs in the mouth, a dental crown or multiple crowns may be the only solution.
Can Tooth Wear Be Prevented?
Yes, tooth wear can be prevented, but only if you make regular visits to the dentist. If detected early enough, your dentist may prescribe a plastic night guard to protect your teeth, much like an athletic mouth guard.
By Benjamin O. Watkins, III, DDS