Cosmetic Dental Care: Discover Your Beautiful New Smile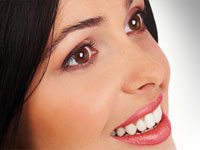 Choice is a wonderful thing. It can mean the opportunity to look a dozen years younger than your actual age. Which, in this youth-obsessed culture, gives you extra advantages, whether you're thirty-something or a grandparent.
These choices include your teeth. Not just movie stars, but adults in all walks of life, are opting for cosmetic dental care that restore youthful vitality to their skin and faces. You might be surprised by the role fresh "young" teeth play in creating that overall first impression.
Your cosmetic dentist can bring you up to date on the incredible and youth-restoring dental options, like dental crowns and veneers, that are available to you. Options available at a fraction of the cost of risky and invasive surgery such as, say, a face-lift.
Whichever restorative dentistry procedure you agree to, or decline, is your personal choice. For example, suppose you're missing teeth. Maybe the gap doesn't show, and you've lived with it for awhile. Replacement with dental crowns or dental bridges might be recommended. The consequences of living with missing teeth are important, but the choice to replace that missing tooth and get one step closer to a beautiful smile is yours.
Just the same, it's your mouth and your decision. Whenever you have questions about your care, ask your local dentist and together you can do what's right for you.
Dental Veneers - The Ultra-Thin Solution to Damaged Teeth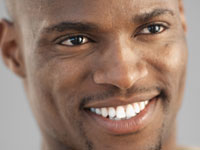 Do you have a weakened, discolored or broken tooth, or teeth, you wish could be improved without having them reduced in size and replaced with dental crowns? Until quite recently, a crown was your only alternative. But not any more. Now that tooth or teeth can be saved and looking fabulous with elegant, life-like porcelain veneers.
Dental veneers are less expensive than crowns, easier on the patient, and relatively quick to place. You could call them "instant orthodontics."
And forget about those thick, heavy, "clunky" tooth veneers of five to ten years ago. Today's dental veneers are ultra-thin and very light, bonded to just the front of the tooth. Cosmetically and technologically speaking, there's no comparison. You have to see them to believe them.
This type of cosmetic dentistry is an inexpensive, simple way to hide a multitude of "Smile Sins." It is easy to improve the look and translucence of teeth stained by early tetracycline use, or years of coffee and tea stains. A minor chip or irregularity can be corrected in a flash with a veneer. No pain, no strain, nothing but the perfect tooth restoration you've always wanted.
Misshapen or overlapping front teeth? By removing just a tiny fraction of enamel and placing tooth veneers, your front teeth can be contoured or straightened. Best of all, a single office visit to a cosmetic dental professional usually does the trick.
The prosthodontics procedures available today are high-tech and versatile. Call your cosmetic dentist for a consultation, and see if a dental makeover can give you a whole new smile!