Porcelain Veneers: a Popular Cosmetic Dentistry Option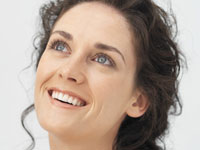 Modern cosmetic dentistry offers a wide selection of options for today's consumers for enhancing their smiles. As an alternative to crowns, chipped or stained teeth can be effectively restored with porcelain dental veneers -- ultra-thin, custom-designed ceramic shells bonded to the front teeth.
A porcelain dental veneers can change a tooth's color, size or shape. They're ideal for a number of tooth restoration purposes:
to mask severely stained teeth, such as from antibiotics;
those with discolored fillings on front teeth;
to repair crooked, chipped teeth;
or for those with poor spacing or worn enamel.
Porcelain dental veneers have a good longevity record, lasting many years when properly applied.
About the Porcelain Dental Veneers Procedure
Porcelain dental veneers treatment requires a four-step process:
First, patients consult with the cosmetic dentist regarding the specific nature of the desired changes. It is possible that you and your dentist may want to view the expected final result. This can be accomplished by performing a "wax up" of your teeth on some impressions (molds) of your mouth. You may also view the expected result via a computer enhancement program.
During the next appointment, your teeth will be prepared for the porcelain dental veneers. They'll be lightly buffed to remove about 0.5 mm from the tooth's surface (which may require local anesthesia).
Next, an impression will be made of your teeth for customizing the porcelain dental veneers. This will be sent to a dental lab and used for creating a perfect fit. A temporary dental veneer might be applied at this time, if appearance is of special concern.
When the porcelain dental veneers are ready, the dentist will carefully attach them, adjusting the shade if needed. Once the dental veneers are cemented, color alteration is no longer possible. Dental cement is applied between the porcelain dental veneers and tooth. A "light" touch finalizes the process with a beam of light activating the hardening of the cement.
Once teeth have been veneered, they will require periodic treatment and regular visits to the dentist. The result is a beautiful and long lasting smile you will love!
By Brian J. Gray, DDS, MAGD, FICO
Considering Porcelain Veneers?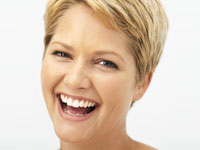 Maybe you've thought about cosmetic dental work - but felt a little vain to consider it.
Or the appearance of your teeth never bothered you much, because your dental health is pretty good.
But fixing a small functional problem can sometimes yield wonderful, unanticipated dividends. Mary, for instance, had a few dental imperfections most of us could live with. But she was hampered from time to time by a lispy "s" sound.
Mary had gapped teeth, a diastema, which caused a slight but noticeable speech defect. She also showed evidence of life in the fast lane, too: teeth worn down, probably from nervous clenching of the jaw muscles or grinding teeth.
In Mary's case - and every case is different - porcelain veneers saved the day. Her cosmetic dentist began with a functional and esthetic evaluation to determine what shape and contour would best solve Mary's diastema problem. More tooth length was proposed, to give her a more youthful, proportioned appearance, too.
Impressions were taken, and sent off to the lab for fabrication. On the next visit, her teeth were cleaned and etched chemically, the dental veneers were cemented into place, and "cured" with a special light to seal them.
Mary's speech problem evaporated. Dentistry fixed that. But cosmetic dentistry did more than perfect her speech.
WHEN FUNCTION = BEAUTY
Like an acrylic fingernail, veneers cover the front surface of the teeth.
Porcelain dental veneers
are strong and, by the way, look great.
As an architect of more that 60 years, I have learned that only the beautiful is practical. And universally, anything that is truly practical, functional, and useful is beautiful.
-Frank Lloyd Wright