Cosmetic Dentistry: A Smile Makeover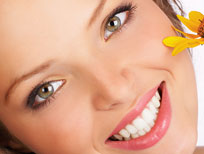 With recent advances in cosmetic dental technology, what was once considered impossible can now be performed routinely. We now have the means and the know-how to treat such conditions as discolored, crooked, and missing teeth - often in one or two visits to a cosmetic dentist, and often without discomfort.
Porcelain veneers have now become a standard part of cosmetic dentistry. These veneers are thin shells of porcelain bonded to the front teeth. Using porcelain veneers, we can change the shape, color and length of your teeth in only two visits - instant orthodontics!
Dental bonding is a widely used phrase that describes how tooth-colored fillings are placed. Using dental bonding, we can eliminate discolored areas, fill in gaps, and also build back areas of gum recession.
Composite fillings (tooth-colored fillings) can now be placed in the back molar areas when tooth decay is detected. These fillings can be used instead of amalgam (silver) fillings and are virtually invisible. Dentists have fun placing composite fillings and patients like them, too.
Teeth whitening is a great treatment for generalized yellow or stained teeth. With custom-fabricated tooth bleaching trays, the bleaching procedure can be done at home at your own convenience. The process generally takes about four to six weeks and the results are very impressive.
With the treatment options available today, it's possible to have the smile you've always wanted. Let your dentist know if you're interested in learning more about these advances in cosmetic dentistry.
The Artistry Of Tooth Bonding and Dental Crowns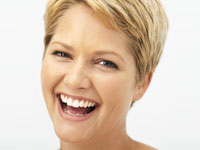 Throughout history, dentists have tried to recreate the function and beauty of natural teeth when tooth structure has been lost. Restoring function used to be the main goal of a dentist because prior to the 1970's, dentistry lacked the proper technology to achieve fine esthetics as well as function. Dentists could only predictably offer patients a restoration that would simply "fill" the empty space. Today, dentistry has more advanced dental materials and newly developed techniques that allow dentists to offer artistically-recreated, natural-looking crowns and modern tooth bonding that would fool even the most critical eye.
Before you can understand how crowns and tooth bonding can mimic teeth you must understand why natural teeth appear as they do.
What Color Are Your Teeth?
It is a common mistake for patients to think that their teeth are all one color. Your teeth are never just one color. They are a series of superimposed translucent layers of varying shades. Teeth also have different surface textures that reflect light in ways that affect the color of your teeth.
Your teeth are made up of three layers: pulp, dentin, and enamel. Each layer has a specific thickness, composition and structure. Additionally, the way light reflects off of or transluces through the layers gives you the color of your teeth. Using knowledge about the three layers of teeth allow dentists and dental technicians to recreate natural-looking dental crowns and tooth bonding.
Who Makes the Crowns?
Dental crown technicians are the true artisans in dentistry. Dentists begin the crown-making process by reducing the size of the tooth, making an impression of the reduced tooth, and selecting the proper shades of the tooth. This information is then transferred to the dental technician so a crown can be made.
Dental technicians blend science with artistic knowledge to recreate natural-looking teeth. Artistically, they use frame and reference, proportion and idealism, perspective and illusion as well as symmetry to mimic nature. Understanding the language of colors and using new dental materials and techniques has allowed the dentist to not only "fill" missing spaces but create cosmetic dentistry artwork from crowns and tooth bonding as well.
By Benjamin O. Watkins, III, DDS