Benefits of Cosmetic Dental Care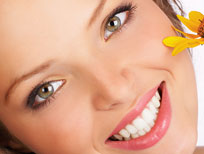 Do your looks affect the way people treat you? Positive self-esteem - how we feel about ourselves - is very important to a healthy personality, to happiness, to the development of a positive attitude about life, and to achievement in the direction we choose.
It is well documented that people with a positive "feeling" about themselves do better in school, in business, and have closer, more meaningful relationships.
One measure of self-esteem is how you feel about your physical appearance; or, more importantly, how you feel you look to others. The complexion, teeth, and nose, in that order, are the highest "rated" facial features.
Self-image begins to develop about age four or five. At that age, identity influences other developing traits: social skills, verbal skills, intellect, and the ability to define oneself as a successful person. In other words, at age four or five a child makes a giant step toward "I'm OK, I'm a worthwhile person," or, conversely, toward "I'm not OK." The results can often affect the remainder of that person's life.
Beauty is often more than skin deep, because the psychological damage to a person who feels unattractive can be devastating. Then there's the other side of the coin. Does how we look affect how others treat us?
Indeed. Studies have shown that good-looking people are given the benefit of the doubt over unattractive people. They're thought to be more intelligent, more likeable, higher achievers, honest, and braver than the unattractive. Even school teachers spend more time with attractive students!
Your mouth is important to your total psychological and physical well-being. Is it worth regular dental cleaning and cosmetic dental care? Is visiting your cosmetic dentist and having your broken teeth restored with beautiful dental crowns worth it? Is straightening crooked teeth with braces worth it? We think you'll probably agree, you and your family are definitely worth it!
Why Might I Need a Replacement Dental Crown?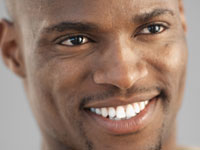 Dental crowns (also known as "caps") are needed on teeth for various reasons. Two of the reasons crowns are needed is to restore broken and unaesthetic - ugly - teeth.
How Long Does a Dental Crown Last?
When crowns are well made, research shows that the average length of time before they wear out is approximately ten years. Because each person is unique, no one can tell you how long a dental crown will last. Even though cosmetic dentistry uses advanced materials, the most durable dental crown material is gold. Dental porcelain fused to gold is the next most durable; an all-porcelain dental crown is the least durable.
Reasons to Replace Dental Crowns
Recurrent decay around the crown edges
The crown material wears down
Broken porcelain
Chronic trapping of food and plaque in between the teeth
Poor appearance
Teeth need to be linked together due to periodontal disease or excessive force
What Causes Dental Crowns to Fail Sooner Rather Than Later?
As stated earlier, each person is unique, but there are some situations that will cause a dental crown to fail sooner rather than later.
Excessive force or clenching
Excessive grinding of teeth or bruxism
Failing to maintain good oral health
Diet high in sugar content like soft drinks, candy and junk food
High decay rate
Severe periodontal disease
Parafunctional habits such as nail biting, pen chewing and pipe smoking
How Are Dental Crowns Replaced?
When replacement crowns are prescribed, there are certain steps that the dentist must complete. First, the dental crown must be removed. This can be accomplished by either wiggling the crown free or cutting the crown off the tooth. Underlying decay should be removed and fillings should be placed as needed. These fillings are referred to as "build-ups" or "foundations" for the new crown. The tooth should then be refined and a new dental crown can then be placed.
No one can tell you how long a dental crown will last. The length of time that they can last is different for each person. Therefore, maintaining regular six-month visits to your dentist is extremely important if you want to maintain a healthy mouth.
By Benjamin O. Watkins, III, DDS